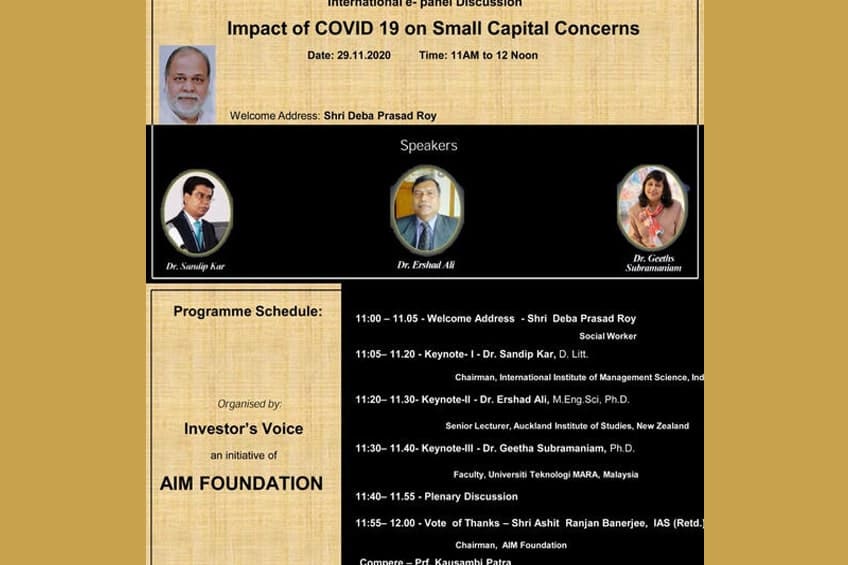 INTERNATIONAL E-SEMINAR - "IMPACTS OF COVID 19 ON SMALL CAPITAL CONCERNS"
On the occasion of World Investor Week, AIM Foundation organised an International e-seminar on the "Impacts of Covid 19 on Small Capital Concerns" on Sunday, 29th November, 2020.

We are highly grateful to the speakers Dr Ershad Ali , senior faculty of Business Programme, Auckland Institute of Studies, New Zealand; Dr Geetha Subramaniam, Associate Professor and Faculty of Business and Management, Universiti Technologi MARA, Malaysia; and Dr Sandip Kar, Chairman, International Institute of Management Sciences, in making this event a huge success. We hope they will guide us and walk with AIM Foundation in its journey. We are once again grateful to the speakers for their august presence.

On this occasion AIM Foundation proudly launched "Silverlining", it's very first e-magazine on investment awareness.

Silverlining (Rupalirekha) is the Investment Awareness Programme wing of AIM Foundation.

>Here we reach out to people from all walks of life to create awareness about the benefits of investing in the capital market. It's free for all. We sincerely believe such awareness initiatives will benefit the mass at large.